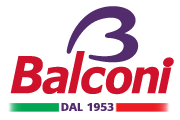 Since 1953, an Italian story that tells of Balconi SpA is a large Italian company specialising in the production of sponge cake desserts, wafers and biscuits. Founded in 1953 by the confectioner Michele Balconi, then very young, it grew relentlessly, transforming from a simple little store to a company with a turnover of over 160 million Euros, operating successfully and being present on the global market.

When, in 1953, Michele Balconi decided to transform his pastry shop into a confectionary company, he had a clear and precise idea in mind: to offer to mothers and their children an industrial product of handcrafted quality.

A wholesome product, made with high quality ingredients, but sold at a "reasonable" price. Balconi believes that quality is synonymous with natural: this is why they only use high quality ingredients. All of their products are "GMO free" and do not contain hydrogenated fats, colorants or added preservatives. Strict quality controls are performed using the most modern technologies, to ensure the highest quality standards and safety throughout the whole production chain.

Balconi's 2 factories cover an area of about 38,000 square metres and employ 186 workers on 8 production lines, operating 24 hours a day. Every day they produce a good 5,000,000 snacks: as many as the inhabitants of Berlin, Chicago or Madrid!