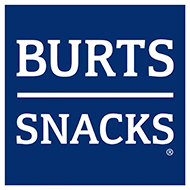 Burts Snacks, British snacking manufacturer, is producing the potato chips, popcorn and other healthy snacks at its plants in Leicester and Roborough, in Plymouth, since 1997.

All Burts potato chips are sliced thick and hand-cooked in small batches at lower temperature than other chips. Burts chips are entirely free from artificial additives and preservatives.

Burts Snacks' range includes Burts Potato Chips, Guinness Chips, Jim Beam Chips, Levi Roots Crisps, Lentil Waves, and the Popcorn & Me brands.

Burts chips are sold in over 28 countries around the world, and we are bringing it to our country as well!

We offer chips enriched with Jim Beam whiskey and Guinness stout, which Burts produced in collaboration with these two brands of world-renowned beverages.