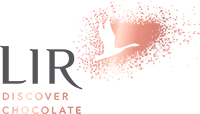 Lir was created in Dublin in 1987 by Connie Doody and Mary White and began on Connie's kitchen table with a food mixer and a bowl.

Today Lir Chocolates is a leading provider of premium chocolates to major retailers at home and abroad. Lir Chocolates is creating hand-finished and hand-decorated chocolates, based on both traditional recipes and gloriously unfamiliar new combinations.

Its successful and award-winning cooperation with brands such as Baileys, Guinness and Marks & Spencer makes Lir on the experts in premium chocolates.

We are bringing you the unique licensed chocolates made by Lear in collaboration with some of the world's largest beverage producers - Baileys and Guinness.