Peter Reber, opened the first Reber confectionary and patisserie café in Munich in 1865. He soon made a name for himself with his homemade treats and his café became a much-loved meeting place for the inhabitants of Munich.

In 1938, the Reber family moved their main café into the centre of Bad Reichenhall, where the company's head office is located today. A great deal has changed since its foundation, although the company is owned by the family's fifth generation, the traditional recipes are still carefully guarded and the café culture is still lovingly celebrated here. Around 200,000 guests visit Café Reber in Bad Reichenhall and the two stores in Salzburg each year to enjoy the exquisite confectionary in a unique setting.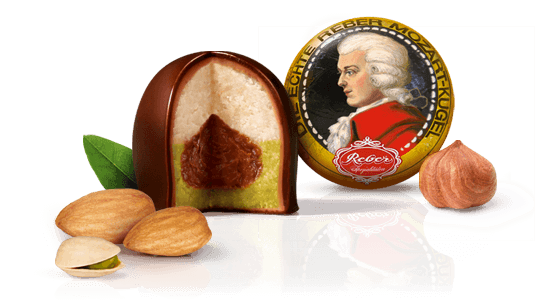 The success story behind the Genuine Reber Mozart-Kugeln
®
, which quickly became famous all over the world, began here in Bad Reichenhall, and they are still produced here to this day. Today, Reber is Germany's market leader for Mozart-Kugeln, and with approx. 500,000 Kugeln being produced per day, also the global market leader* of this speciality within the premium sector.