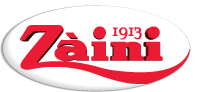 At the beginning of the last century, a young entrepreneur had an idea: "Everyone is different, so why aren't we creating different chocolates for different people?" So in 1913 Luigi Zaini made the decision to transform his small local workshop in the centre of Milan into an industrial-scale enterprise. Very soon the production of chocolates, pralines and sweets grew and, despite the First World War, the company had to relocate to larger premises in via Imbonati, where it still has its head offices today.

But in 1938 Luigi Zaini died unexpectedly. His young and fascinating wife, Olga, already a mother of four, took over running the company and proved to be an extremely capable businesswoman. Not even the Second World War could stop her; Olga rebuilt the bombed-out premises and expanded production.

In the 50s, she was joined by her sons, Piero and Vittorio, who launched out into exports and technological development. A food science division and pharmaceutical laboratory were set up, with a new plant in Senago and a logistics platform in Pavia.
Luigi and Antonella, Vittorio's children, now continue the business, which still has its characteristically local roots and its passion for quality products. Zaini is internationally renowned, as evidenced by its distribution of its products in 75 countries and its forging of major partnerships as its continues to marry tradition with the contemporary.